Posts made in April 6th, 2010
APFI commissioned some artists to create a logo for the organization. We would like your opinion on which of the designs you like best. Please offer your thoughts as well! We will base our decision on factors including your poll selection as well as comments. Thank you!
Click on each image to enlarge:

[polldaddy poll=3011367]
This poll will close on Monday, April 12 at midnight, EST. Results will be published then.
Read More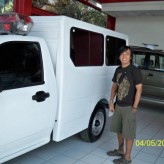 On April 5th, Arnel Pineda, Cherry Pineda and Tessang Bautista spent time comparing prices of vans to utilize for the mobile school. After thorough negotiations with the dealer shown in the photos, they were able to find a better deal with another company. See more photos at the Gallery.
Read More